BMC Certified Associate: Helix Business Workflows 21.x for Administrators Online Exam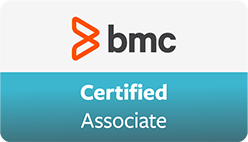 Online Exam
BMC Helix Business Workflows is a cloud-native case management application for all lines of business. It provides services to employees in a scalable, managed, and automated way. Built on BMC Helix Innovation Studio, it provides the ability to create automated workflows without writing code and tailor the user interface to meet the organization's need.
The BMC Certified Associate: Helix Business Workflows 21.x for Administrators Online Exam will validate the technical competencies needed to successfully deploy, operate and administer out-of-the-box (OOTB) baseline functionality for BMC Helix Business Workflows.
Major release:
BMC Helix Business Workflows 21.x
Good for:
Administrators, Business Analysts
Course Delivery:
Web Based Training (WBT) | 2 heures
Steps to Certifications
Step 1.  Take the recommended courses for the Certified Associate learning path. Purchase the required exam (attempts).
Step 2.  Study and prepare for the exam. BMC recommends 6 weeks and also a minimum of [3] months of experience with the product before taking the exam.
Step 3.  Take and pass the exam.
Step 4.  If you have failed the exam, purchase another exam attempt and start at step 2.
Examination Details