BMC Certified Professional: TrueSight Capacity Optimization 11.x for Administrators and Consultants Online Proctored Exam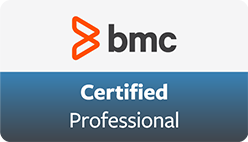 Online Proctored Exam
Companies deploying and using TrueSight Capacity Optimization realize full value only when their solution is effectively implemented, operated and administrated. To ensure deployments, administration and operations are performed to best practice standards, BMC Software maintains a technical certification program.
The BMC Certified Professional: TrueSight Capacity Optimization 11.x for Administrators and Consultants Online Proctored Exam will validate the competencies needed to successfully use TrueSight Capacity Optimization.
Steps to Certifications
Examination Details
Exam is an online Exam in BMC Academy.
Exam will be proctored remotely by our online proctoring vendor.
Participants must have a working webcam and microphone.
Participants will be required to provide identification to the online proctor. Acceptable forms of ID include: photo work ID with name, government issued photo ID such as driver's license or passport.
For more details, consult the BMC Education Certification Policy and Online Proctored Exam Guide.