BMC Certified Associate: AMI Ops Automation 8.x for Operators and System Programmers Online Exam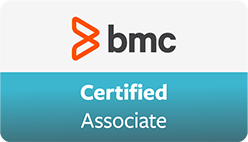 Online Exam
BMC AMI Ops Automation (BMC AMI OpsA) product is part of the BMC AMI Ops Automation for Data Centers solution. This product provides tools and applications to improve an operator's ability to provide high system availability and helps the operator through error minimization, improved productivity, and problem determination and prevention.
The BMC AMI Ops Automation solution has multiple products like General Services, Operator Workstations, Rules Management, and TOM (Total Object Manager). Effective automation can be achieved only if the Automation Engineer (Operator or System programmer) comprehensively understands all these products.
The BMC Certified Associate: AMI Ops Automation 8.x for Operators and System Programmers Online Exam will validate the technical competencies needed to understand and use the automation processes under the BMC AMI Ops Automation solution.
Good for:
Operators, System Programmers
Steps to Certifications
Step 1.  Take the recommended courses for the Certified Associate learning path. Purchase the required exam (attempts).
Step 2.  Study and prepare for the exam. BMC recommends 6 weeks and also a minimum of [3] months of experience with the product before taking the exam.
Step 3.  Take and pass the exam.
Step 4.  If you have failed the exam, purchase another attempt and start at step 2.
Examination Details