Track-It! 11.1: Administering
This 3-day instructor-led training class is designed specifically for those responsible for installing, configuring, and managing their Track-It! products. Attendees will learn how to apply help desk best practices to configure and manage their BMC Track-It! products through workshop exercises.
Included in this course is an optional examination for BMC Accredited Administrator: BMC Track-It! 11.x.
Recommended Prerequisites:
Course Delivery:
Instructor Led | 24.00 heures
Course Modules
Installation

Track-It! System Requirements
Server Requirements
Client Applications
Audited Platforms

Installation Models
Installing Track-It!
Administering Technician Access

Creating Technician Accounts
Understanding Security Policies
Modifying the Default Security Policy
Creating Security Policies

Assigning Technicians to a Security Policy
Creating Technician Queues
Data Setup and Database Concepts

Understanding Lookup Tables
Categorizing Work Orders
Defining Work Order Priorities
Remaining Lookup Tables

Other Significant Track-It! Tables
Backing up Track-It!
Configuring

Administration Console Overview
Configuring Administration Options
Configuring Help Desk Options

Configuring Solutions Options
Configuring Purchasing Options
Using the Directory Importer

Directory Importer Overview
Selecting a Directory Service
Importing Technicians and Users while Assigning Licenses

Understanding the Field Mapping Options
Automating the Import Schedule
Setting up Workflow Automation

Understanding Event Policies
Creating Service Level Agreements
Creating Skill Routing Policies

Creating Work Order Templates
Working with Schedule Work Orders
Change Management

Change Management Overview
Defining Different Types of Change
Classifying Change Requests
Understanding Change Management Roles
Setting up Change Management Roles

Setting up Change Management Policies
Configuring Notifications for Change Management Events
Customizing Notification Templates for Change Management Events
Scheduling Notifications for Change Management Events
Discovery and Audit

Managing IT Assets
Understanding Asset Discovery
Managing Discovered Assets
Understanding Audit and Audit Components
Using the Administration Console to Configure Audit Options
Configuring Audit Execution
Scheduling Automatic Auditing

File Capture Information
Setup Credentials for Windows Installation
Merging Audit Results
Customizing the Print Output
Performing a Distributed Audit
Changing the Audited Software Approval Status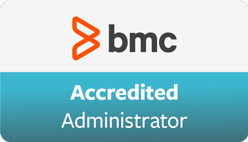 Accreditation is available upon successful completion of this course.